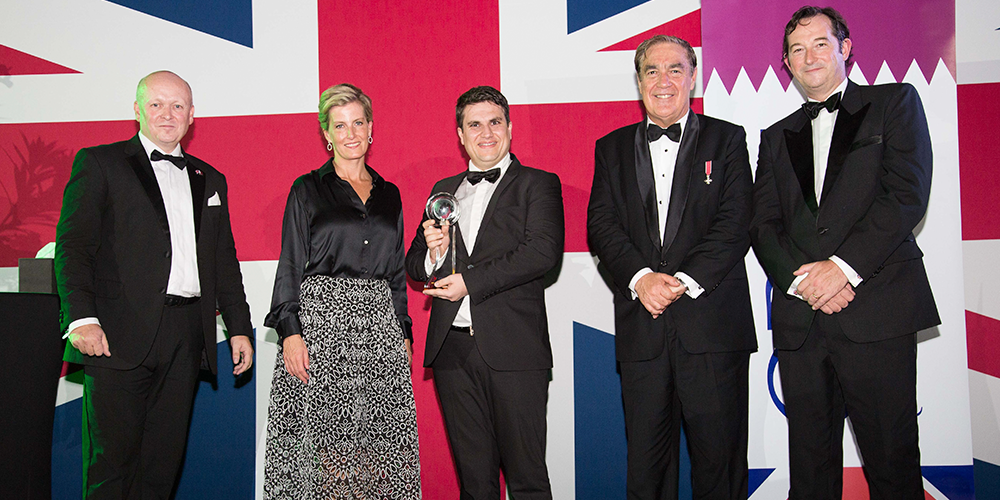 Apton Partitioning have been named as the Start up Business of the Year in the 2015 Inaugural Qatar British Business Forum Annual Awards Evening, on Monday 5th October at a dinner in the British Embassy Residence Gardens, Qatar.
Her Royal Highness The Countess of Wessex and Her Majesty's Ambassador to Qatar Mr Nicholas Hopton presented the award to Ali Al-Dulaimi, Regional Manager, Apton.
His Excellency Nicholas Hopton commented, "The work of the QBBF is important to the British community in Qatar and far more widely too. This award ceremony is a positive initiative and I commend the achievements of its members and Qatari partners."
QBBF Chairman and CEO of the Rumaillah Group, Emad Turkman MBE said: "Each of the winners tonight have performed extraordinarily in the business community in Qatar and are well-deserving of these awards. They exemplify the values we have as an organisation in terms of high business entrepreneurship and commitment to their community."
Members of the organisation, which works closely with the UK Trade & Investment office at the British Embassy, nominated QBBF Individual and Corporate peers for awards in six categories.
The awards are part of ongoing events and activities to promote business opportunities in Qatar and in particular on how to encourage trade between the two countries. QBBF aim to help nurture local economic diversification as part of Qatar's National Vision 2030.
The Qatar British Business Forum (QBBF) was established in 1992 as a forum for business people to meet on a regular basis with the objective of exchanging views and opinions about existing and potential business opportunities in Qatar in general, and in particular on how best to promote trade between the United Kingdom and Qatar.
< back